Nitrous Oxide for Children
COVID-19 UPDATE
To our patients, friends and family:
My highest priority continues to be the health and well-being of Newtown Dental Arts patients and team members. As a result of the evolving impact of the COVID-19 (novel coronavirus) national and state emergency declarations, and in compliance with the requests made by State and Federal Administrations, I will be restricting the dental care provided to patients to *only* emergency care, for the next two weeks.
This decision was not made lightly. After considering advice from fellow healthcare professionals, the American Dental Association and the Center for Disease Control, our team believes that we are acting in the best interest of our close-knit community. We must all do our part to "flatten the curve" and mitigate the risk of person-to-person contact, by staying home.
During this time, I will be available for patients who experience a true dental emergency. Please call our office at 215-860-4141 and listen to the prompts to be connected to the emergency paging system.
If your upcoming appointment has been cancelled, you will receive direct communication from our Patient Care Team, via text, email and/or phone call. For non-emergent requests, you may leave a message in our general office voicemail, which will be checked at least once each day. You may also email us at patientcare@newtowndentalarts.com.
We appreciate your patience and understanding during these unprecedented, challenging times. As this is a fluid situation, we continue to monitor the advice of our government, the ADA and CDC and will continue to send updates as necessary.
We hope you will join us in staying home and staying healthy.

Very sincerely,

Dr. Renée Feldsher
Online Dental Education Library
Our team of dental specialists and staff strive to improve the overall health of our patients by focusing on preventing, diagnosing and treating conditions associated with your teeth and gums. Please use our dental library to learn more about dental problems and treatments available. If you have questions or need to schedule an appointment, contact us.
Some children are just too fearful to receive necessary dental care. In that type of situation, conscious sedation with nitrous oxide may be recommended to help make your child's experience of dental treatment stress-free.
Nitrous oxide, a colorless gas with a slightly sweet odor, has been used in medicine for about a century. It's a safe and effective method of administering conscious sedation, which means that a child (or adult) will stay awake during the procedure, but feel completely relaxed — even happy. All bodily functions remain normal during the administration of nitrous oxide, and its effects wear off quickly afterwards.
How Is Nitrous Oxide Administered?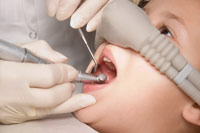 As a form of conscious sedation, nitrous oxide is inhaled through a small mask that fits comfortably over a child's nose. The gas is mixed with oxygen as it is being delivered, and both gases are always kept at a level that is safe for the body. In just a few minutes, the patient may start to experience a floating sensation, and perhaps some tingling in the hands and feet. That's a sign that the sedation is working. Once it has been verified that your child is calm and comfortable, and that the dose is correct, the dental procedure can begin.
Nitrous oxide itself isn't a substitute for a local anesthetic in children or adults as it's considered an anxiolytic, which means it makes anxiety disappear. However, for some pediatric procedures, a child receiving nitrous oxide may not need an anesthetic injection. Even if they do need a numbing shot, they won't mind at all while under sedation with nitrous oxide. Yet they won't be asleep — they'll be able to speak, be aware of what's going on, and they will remain in control during the procedure. In fact, the dose can be fine-tuned to just the level of sedation they need to make them comfortable yet alert.
When the procedure is over, the flow of nitrous oxide is decreased to zero, and the oxygen will be increased. After resting in the chair for a few minutes, the child will feel completely normal.
Who Can Benefit From Nitrous Oxide?
Any child whose anxiety would preclude dental treatment can benefit from conscious sedation with nitrous oxide. Before your child is treated, you will be asked for a complete medical history, including any medications your child is taking. Your child will be kept safe and comfortable throughout the procedure, and will likely not remember a thing about it afterwards.
Related Articles
Taking the Stress Out of Dentistry for Kids Finding a dental practice should be like finding your child a cuddly warm blanket — a comfortable and secure environment in which real communication can occur. Nowadays, all parents and child caregivers should be saying that their little ones enjoy dental visits and even look forward to them. If this isn't the case in your family, our experts will tell you how it can be... Read Article