COVID-19 UPDATE
To our patients, friends and family:
My highest priority continues to be the health and well-being of Newtown Dental Arts patients and team members. As a result of the evolving impact of the COVID-19 (novel coronavirus) national and state emergency declarations, and in compliance with the requests made by State and Federal Administrations, I will be restricting the dental care provided to patients to *only* emergency care, for the next two weeks.
This decision was not made lightly. After considering advice from fellow healthcare professionals, the American Dental Association and the Center for Disease Control, our team believes that we are acting in the best interest of our close-knit community. We must all do our part to "flatten the curve" and mitigate the risk of person-to-person contact, by staying home.
During this time, I will be available for patients who experience a true dental emergency. Please call our office at 215-860-4141 and listen to the prompts to be connected to the emergency paging system.
If your upcoming appointment has been cancelled, you will receive direct communication from our Patient Care Team, via text, email and/or phone call. For non-emergent requests, you may leave a message in our general office voicemail, which will be checked at least once each day. You may also email us at patientcare@newtowndentalarts.com.
We appreciate your patience and understanding during these unprecedented, challenging times. As this is a fluid situation, we continue to monitor the advice of our government, the ADA and CDC and will continue to send updates as necessary.
We hope you will join us in staying home and staying healthy.

Very sincerely,

Dr. Renée Feldsher
Online Dental Education Library
Our team of dental specialists and staff strive to improve the overall health of our patients by focusing on preventing, diagnosing and treating conditions associated with your teeth and gums. Please use our dental library to learn more about dental problems and treatments available. If you have questions or need to schedule an appointment, contact us.
Cavities are little holes in teeth that can eventually cause big problems. They form when tooth-eroding acid attacks a tooth's protective outer covering (enamel). This acid mainly comes from two sources: your diet, and certain oral bacteria that thrive in the absence of effective oral hygiene. If cavities are not treated promptly, decay-causing bacteria can get further into the tooth, leading eventually to root-canal problems and even tooth loss. The good news is that cavities are completely preventable — meaning it is truly possible to keep all of your natural teeth for life! Here are our top three tips to keep decay away:
Brush & Floss Every Day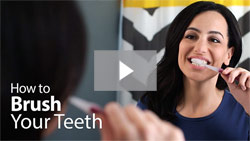 Cavity prevention starts with a good oral hygiene routine. This will remove dental plaque — a sticky film that harbors food particles and harmful bacteria. Flossing is particularly important because a toothbrush can't reach in between the teeth the way floss can. Make sure to floss both sides of every tooth, including the back molars, at least once each day. Brush your teeth at least twice each day, using a toothpaste that contains fluoride — a mineral that can become part of your tooth enamel and actually repair tiny cavities that are starting to form.
Pay Attention to Your Diet
Certain foods and beverages are no friends to your teeth, and soda tops the list. Soda, sports drinks, and so-called "energy drinks" are all acidic — even the sugar-free varieties. The acids they contain attack tooth enamel and make your teeth more prone to decay. Fruit juices can also be very acidic. Drinking water is much better for your dental health, not only because it has a completely neutral pH (is non-acidic), but also because it helps replenish your saliva — which has natural cavity-fighting properties. Sugary and starchy foods (cookies, candy, donuts, and chips) are also a problem — especially when they are not promptly cleaned from your mouth. They nourish the oral bacteria that cause cavities and raise the acidity level in your mouth.
See Your Dentist Regularly
Routine professional cleanings and exams are a great way to maintain excellent oral health. Your dental hygienist can clean areas of your mouth that you can't reach with your toothbrush or even with floss. We can check for early signs of tooth decay and take prompt action. What's more, we can recommend specific preventive treatments if you are particularly prone to cavities. These include in-office fluoride treatments and dental sealants, both of which are quick, easy and effective procedures. Special mouthrinses might also be recommended. Working together, we can make sure your oral hygiene routine is all it should be and that decay is kept at bay.
Related Articles