COVID-19 UPDATE
To our patients, friends and family:
My highest priority continues to be the health and well-being of Newtown Dental Arts patients and team members. As a result of the evolving impact of the COVID-19 (novel coronavirus) national and state emergency declarations, and in compliance with the requests made by State and Federal Administrations, I will be restricting the dental care provided to patients to *only* emergency care, for the next two weeks.
This decision was not made lightly. After considering advice from fellow healthcare professionals, the American Dental Association and the Center for Disease Control, our team believes that we are acting in the best interest of our close-knit community. We must all do our part to "flatten the curve" and mitigate the risk of person-to-person contact, by staying home.
During this time, I will be available for patients who experience a true dental emergency. Please call our office at 215-860-4141 and listen to the prompts to be connected to the emergency paging system.
If your upcoming appointment has been cancelled, you will receive direct communication from our Patient Care Team, via text, email and/or phone call. For non-emergent requests, you may leave a message in our general office voicemail, which will be checked at least once each day. You may also email us at patientcare@newtowndentalarts.com.
We appreciate your patience and understanding during these unprecedented, challenging times. As this is a fluid situation, we continue to monitor the advice of our government, the ADA and CDC and will continue to send updates as necessary.
We hope you will join us in staying home and staying healthy.

Very sincerely,

Dr. Renée Feldsher
Online Dental Education Library
Our team of dental specialists and staff strive to improve the overall health of our patients by focusing on preventing, diagnosing and treating conditions associated with your teeth and gums. Please use our dental library to learn more about dental problems and treatments available. If you have questions or need to schedule an appointment, contact us.
In most people, the third set of molars, generally called "wisdom teeth," start coming in around age 17-25. However, the arrival of these teeth is often far from trouble-free. The extraction (removal) of one or more third molars is a relatively common procedure, performed on some 5 million patients every year. After a thorough examination and diagnostic tests such as x-rays or a CT scan, you may be told that you should have your wisdom teeth extracted. Here are some typical reasons why:
Your jaw may be too small to accommodate all your teeth, leading to excessive crowding and the chance of your wisdom teeth becoming impacted — that is, unable to emerge from the gums, and potentially harmful to adjacent bone or teeth
Your wisdom teeth may be erupting (coming in) in a crooked orientation, which can damage other teeth or anatomical structures in the jaw, and/or cause bite problems
If your wisdom tooth does not fully erupt (emerge from the gums), it can increase the chance for bacterial infection
A cyst (a closed, fluid-filled sac) may develop around the unerupted wisdom tooth, which can cause infection and injury to the adjacent bone or nerve tissue
Whether it is aimed at preventing future problems or needed to alleviate a condition you already have, the extraction of wisdom teeth can be an effective treatment. But, as with all medical procedures, its benefits must be weighed against the small risk of complications, and should be discussed in detail.
The Extraction Procedure
Wisdom tooth extraction is usually an in-office procedure which may be performed by a dentist or an oral surgeon. It's quite possible to have the treatment done with only a local anesthetic (numbing shot) to keep you from experiencing any pain; however, if multiple teeth are being extracted at one time (as is often the case), a general anesthetic or conscious sedation may be administered. The type of anesthesia that's best for you will be determined before the procedure.
Once you have been appropriately anesthetized, the gum tissue at the extraction site may need to be opened if the tooth is impacted. The tooth itself will then be gently removed. When the extraction is complete, you may need to have the site sutured (stitched) to aid healing. After the procedure is over, you will rest for a short time before going home. Depending on what type of anesthesia you have had, you may need another person to drive.
After the Procedure
The recovery period after wisdom tooth extraction generally lasts only a few days. During this time, you should rest when possible to encourage healing, and take any pain medication as prescribed. It's normal to experience some bleeding at the extraction site; this can be controlled by gently biting on gauze pads, changing them as needed, and resting with the head elevated on pillows rather than flat.
Holding an ice pack on the outside of your cheek for a few minutes at a time (for example, 5 minutes on / 5 minutes off) may help reduce swelling on the first day after the procedure. Starting on day 2, the warm moist heat of a washcloth placed on the cheek may make you more comfortable. Rinsing the mouth with warm salt water a few times a day can also help relieve discomfort.
You may want to eat soft foods for a few days after the extraction; likewise, be careful when brushing or putting anything in your mouth until your healing is complete. Be sure to follow the postoperative instructions you are given, as each situation is a little different; this will help you to be as comfortable as possible.
Related Articles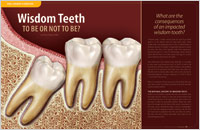 Wisdom Teeth – To Be Or Not To Be Wisdom teeth, which typically make their appearance between the ages of 17 and 25, can cause significant problems when there is not enough room for them to grow in properly. As a person ages, the effects of retained and impacted wisdom teeth can be more consequential. This article reviews the issues associated with wisdom teeth and whether or not they should be removed... Read Article