COVID-19 UPDATE
To our patients, friends and family:
My highest priority continues to be the health and well-being of Newtown Dental Arts patients and team members. As a result of the evolving impact of the COVID-19 (novel coronavirus) national and state emergency declarations, and in compliance with the requests made by State and Federal Administrations, I will be restricting the dental care provided to patients to *only* emergency care, for the next two weeks.
This decision was not made lightly. After considering advice from fellow healthcare professionals, the American Dental Association and the Center for Disease Control, our team believes that we are acting in the best interest of our close-knit community. We must all do our part to "flatten the curve" and mitigate the risk of person-to-person contact, by staying home.
During this time, I will be available for patients who experience a true dental emergency. Please call our office at 215-860-4141 and listen to the prompts to be connected to the emergency paging system.
If your upcoming appointment has been cancelled, you will receive direct communication from our Patient Care Team, via text, email and/or phone call. For non-emergent requests, you may leave a message in our general office voicemail, which will be checked at least once each day. You may also email us at patientcare@newtowndentalarts.com.
We appreciate your patience and understanding during these unprecedented, challenging times. As this is a fluid situation, we continue to monitor the advice of our government, the ADA and CDC and will continue to send updates as necessary.
We hope you will join us in staying home and staying healthy.

Very sincerely,

Dr. Renée Feldsher
Online Dental Education Library
Our team of dental specialists and staff strive to improve the overall health of our patients by focusing on preventing, diagnosing and treating conditions associated with your teeth and gums. Please use our dental library to learn more about dental problems and treatments available. If you have questions or need to schedule an appointment, contact us.
Your child's little baby teeth have some big responsibilities. Until the adolescent years, they will not only help your youngster bite and chew (i.e., get proper nutrition) and speak correctly but also help guide the permanent teeth underneath them into proper position. In fact, a major function of baby teeth is to hold space for the adult teeth that will eventually push them out.
At least that's how it's supposed to work; sometimes, however, injury or disease can cause a baby tooth to be lost prematurely. When that happens, the permanent teeth that are coming in on either side can actually drift into the space that was reserved for another tooth. This can cause teeth to erupt out of position or to be blocked entirely, and it may result in crowded or crooked teeth.
Fortunately, if your child loses a tooth prematurely, there's a dental appliance that can be used to hold the space open for the permanent tooth that is meant to fill it. The device is, not surprisingly, called a "space maintainer" or a "space maintenance appliance." Made of metal and/or plastic, space maintainers can be fixed (cemented) or removable, but either way their purpose is the same: to help your child develop the best bite possible and hopefully avoid the need for braces later on.
Fixed appliances are cemented onto adjacent teeth. They are made in many different designs: One consists of a band that goes around a tooth and then a wire loop that extends out from the band to hold the space; another features a loop attached to a stainless steel crown, which goes over a nearby tooth. In either case, the loop extends just to the point where it touches the next tooth. Fixed space maintainers are often preferred with younger children, because they are less easy to fidget with, break, or misplace than appliances that can be removed.
Removable appliances look like the type of retainer that is worn at the end of orthodontic treatment. It can have a false tooth on it, which is particularly useful when the lost tooth was visible in the mouth. Older children can usually handle the responsibility of wearing this appliance and caring for it properly.
Whether fixed or removable, your child's space maintainer will be custom-made after we take impressions of his or her mouth. A child will wear a space maintainer until x-rays reveal that the tooth underneath is ready to erupt naturally. It is very important that anyone wearing a space maintainer keep up good oral hygiene at home and have regular professional dental cleanings.
Space maintainers are also useful when one or more permanent teeth are congenitally missing — in other words, they have never existed at all. In cases like this, which are not uncommon, permanent dental implant teeth are often recommended for adolescents or adults to replace a tooth they weren't born with. But timing is very important with dental implants — they can't be placed in a growing child. Therefore, it is very important to use a space maintainer with a false tooth on it until jaw growth is complete and an implant can be appropriately placed. It's a simple, non-invasive way we can avoid a malocclusion (bad bite) with some timely intervention.
Related Articles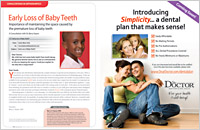 Early Loss of Baby Teeth If baby teeth are lost prematurely, other teeth can shift into the new space so that there is not enough room left for the permanent teeth to come in correctly; crowding or crooked teeth can result. Fortunately, a special oral appliance called a "space maintainer" has been designed to solve this problem... Read Article