COVID-19 UPDATE
To our patients, friends and family:
My highest priority continues to be the health and well-being of Newtown Dental Arts patients and team members. As a result of the evolving impact of the COVID-19 (novel coronavirus) national and state emergency declarations, and in compliance with the requests made by State and Federal Administrations, I will be restricting the dental care provided to patients to *only* emergency care, for the next two weeks.
This decision was not made lightly. After considering advice from fellow healthcare professionals, the American Dental Association and the Center for Disease Control, our team believes that we are acting in the best interest of our close-knit community. We must all do our part to "flatten the curve" and mitigate the risk of person-to-person contact, by staying home.
During this time, I will be available for patients who experience a true dental emergency. Please call our office at 215-860-4141 and listen to the prompts to be connected to the emergency paging system.
If your upcoming appointment has been cancelled, you will receive direct communication from our Patient Care Team, via text, email and/or phone call. For non-emergent requests, you may leave a message in our general office voicemail, which will be checked at least once each day. You may also email us at patientcare@newtowndentalarts.com.
We appreciate your patience and understanding during these unprecedented, challenging times. As this is a fluid situation, we continue to monitor the advice of our government, the ADA and CDC and will continue to send updates as necessary.
We hope you will join us in staying home and staying healthy.

Very sincerely,

Dr. Renée Feldsher
Online Dental Education Library
Our team of dental specialists and staff strive to improve the overall health of our patients by focusing on preventing, diagnosing and treating conditions associated with your teeth and gums. Please use our dental library to learn more about dental problems and treatments available. If you have questions or need to schedule an appointment, contact us.
You probably already realize that maintaining a balanced diet offers a host of benefits to your overall health. But did you know diet also directly affects the health of your teeth and gums? It all starts before birth, as a baby's teeth begin forming in the sixth week of pregnancy and mineralizing in the third or fourth month. During this time, an expectant mother needs to take in lots of calcium (the major component of teeth) along with vitamin D, phosphorous and protein. Dairy products including milk, cheese, and yogurt have all of these. Broccoli and kale also have calcium, while meats are good sources of protein and phosphorous. These foods are also important for children, whose teeth continue to develop and mineralize through the teen years.
Throughout life, oral tissues are constantly recycling; they need a variety of nutrients to support this process. It's equally important to recognize that nutritional deficiencies — a particular concern among older adults who have lost teeth — can reduce resistance to disease and hinder your ability to fight infection. Studies have consistently found that a high intake of fruits and vegetables reduces the risk for oral cancer — as well as other types of cancer. That's why eating a nutritious diet is important for oral health — as well as general health — at any age.
Eating Healthy
What's the best diet for you? That depends mainly on your age, gender, height, weight and level of physical activity. But in general, a health-promoting diet is based on the concepts of:
Variety. No single food can meet all of the daily nutrient requirements. Eating lots of different foods also makes meals more interesting.
Balance. We need to eat the recommended amounts of foods from specific categories on a daily basis. Find out what your specific needs are at www.choosemyplate.gov
Moderation. Don't supersize it. Foods and beverages should be consumed in serving sizes that are appropriate to meet energy needs while controlling calories, fat, cholesterol, sodium, and — particularly important in the dental arena — sugar.
Protecting Your Teeth
Your diet (which includes what you drink) plays a major role in tooth decay and enamel erosion. Your mouth is naturally hospitable to all kinds of bacteria. Some of these microorganisms are helpful and some are harmful, and many of the harmful ones thrive on a steady supply of sugar. As they process sugar from your diet, these bacteria produce acids that can eat into the enamel of your teeth, forming small holes called cavities. If left untreated, tooth decay can worsen, become quite painful, and threaten the survival of teeth.
That's why it is important to avoid food and drinks with added sugar. If you have a sugar craving (and we all do from time to time), choose fresh fruit or yogurt instead of a donut or candy bar. Fortunately, there is no evidence that sugars in whole grain foods, whole fruits and vegetables, and in starch-rich staple foods like bread, rice and potatoes are harmful to teeth.
Soft drinks, however, are a double whammy for teeth; many not only contain lots of sugar — up to 10 teaspoons per 12-ounce can — but they are also highly acidic. This means they erode teeth on contact, even before the bacteria in your mouth have processed the sugar these drinks contain. But even if they are sugar-free, the acid can still harm your teeth. So it might be best to avoid soda, sports drinks, energy drinks and canned iced tea. If you do occasionally have a soda, swish some water in your mouth afterwards — but don't brush your teeth for at least an hour! Doing so could make it easy for tooth enamel, already softened up by acid, to be eroded away by brushing.
Drinking lots of water can help you maintain a healthy supply of saliva, which protects teeth by neutralizing acid. You can also neutralize the acid in your mouth after a sugary snack by following it up with a piece of cheese.
Finally, remember that it's not just what you eat that affects the level of acidity in your mouth — it's also when. Snacking throughout the day, especially on chips, crackers, cookies or candy, means that your saliva never gets the chance to neutralize the harmful acids being produced. So if you eat sweets, do it only at mealtimes. As an added incentive, you may find this helps you maintain a healthy weight, too!
Related Articles
Nutrition & Oral Health Oral health is a huge part of our general health. In this article we focus on diet as it relates to dental/oral health. Learn new important facts about sugars — the good and the bad; fluorides; tooth erosion by acids; and more... Read Article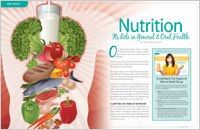 Nutrition — It's Role in General & Oral Health Learn how good nutrition and dietary practices impact tooth formation, tooth decay resistance and oral tissue health as well as your whole body's general health... Read Article